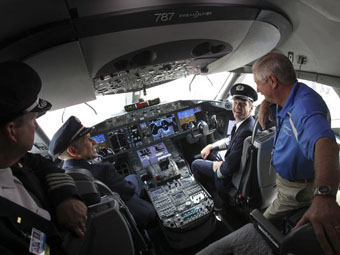 MIAMI — Airlines will need nearly half a million new commercial pilots worldwide by 2032 as they expand their fleets, an industry forecast released today predicts.
Boeing, the Chicago-based airline manufacturer, said today that airlines will have to hire 498,000 pilots — about 25,000 each year — to support all the new aircraft they are expected to add to their fleets over the next two decades. They also will need 556,000 new maintenance technicians, or about 28,000 a year.
Boeing's outlook, released today during the launch of the 787 flight training center at its campus here, predicts demand for pilots will grow in all regions except for Europe. The projected increase in pilot demand is greater than what Boeing had indicated in previous forecasts. It is particularly driven by airlines' interest in single-aisle aircraft, the company said.
REMEMBER THIS?: Scenes from the 2013 Paris Air Show
But other factors are coming into play, analysts say. Thousands of pilots are retiring this year just as the Federal Aviation Administration is introducing new rules requiring new training and more rest in between flights.
The FAA announced a new rule last month requiring co-pilots, or first officers, to get 1,500 hours of flight time for their certification, up from 250 hours.
Starting next year, the minimum rest period before a pilot's flight duty will increase from eight hours to 10 and must include the ability to get eight hours of sleep in a row.
RELATED: Pilot shortage looms for airlines
ALSO RELATED: FAA requires more pilot training after Colgan crash
"The urgent demand for competent aviation personnel is a global issue that is here now and is very real," said Sherry Carbary, vice president of Boeing Flight Services. "The key to closing the pilot and technician gap in our industry is enhancing our training with the latest, cutting-edge technologies to attract and retain young people interested in careers in aviation."
The most pronounced shortage will be in the Asia Pacific region, where 192,300 pilots and 215,300 technicians will be needed, according to Boeing's forecast.
Even though demand has declined slightly in Europe, the region still will need another 99,700 pilots and 108,200 technicians.
North America follows with a projected demand for 85,700 pilots and 97,900 technicians. Latin America will be in need of 48,600 pilots and 47,600 technicians.
https://takeflight.us/wp-content/uploads/2013/04/logo-300x118.jpg
0
0
pastagias
https://takeflight.us/wp-content/uploads/2013/04/logo-300x118.jpg
pastagias
2014-06-29 03:57:04
2014-06-29 04:04:45
AIRLINES FACE A PILOT SHORTAGE BOEING REPORT SAYS